New Economic Perspectives has the article STATEMENT: House Budget Committee, "Reexamining the economic costs of debt", Nov 20, 2019
I will argue that the Federal Government's deficit and debt are not so scary as we are led to believe.

Neither the deficit nor the debt ratio is on an unsustainable path. In some sense, chronic deficits and a rising debt ratio are normal.

They are not due to out of control spending—now or in the future. They serve a useful public purpose. In any case they are largely outside the control of Congress.
This has too many facts, data, and graphs for any normal person to digest. Only math lovers will appreciate this.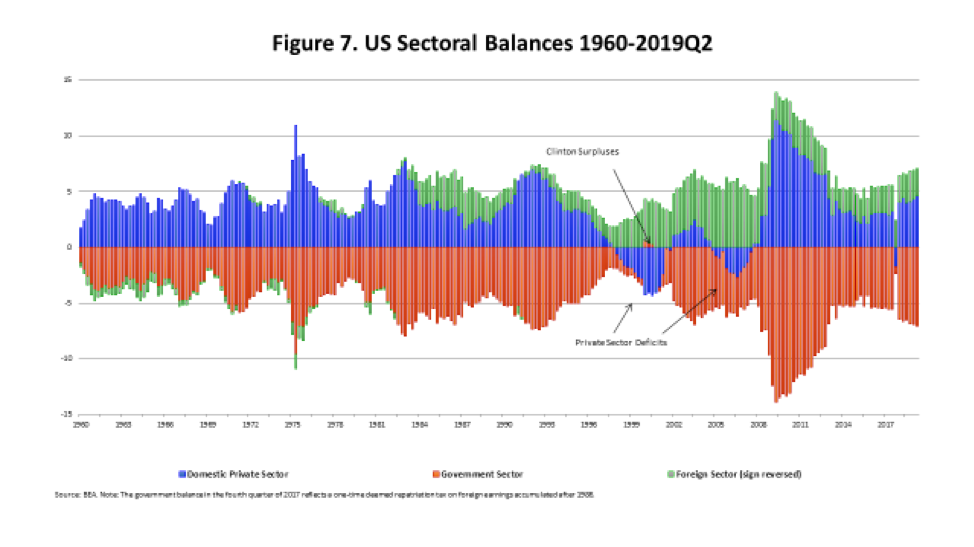 One thing that I have finally come to realize about the sector balance graph is that it tends to hide some important information. By attempting to show three sectors on one graph by using three colors, one color may cover up some important changes that are going on underneath the dominant color.
I get a glimmer of what important changes are going on in the underlying sector, but I could plainly see what that sector did if the one graph were shown as three separate graphs as well as the combined graph.
One might try experiments with 33% opacity in the colors or not fill in the colors, but use line graphs instead.